 
Drum choppers
Drum choppers are economic, robust and efficient tools with a low cost of use.
They are mainly used on soil preparation, maintenance and for natural regeneration.
The first drum chopper was conceived and patented by Jacques Darriet, the company's founder in 1922.
Since then, Sylvinov constantly improves with the latest innovations of mechanization.
Our drum chopper are fitted with DeMatos sealing reinforce oil-bath system.
They are used on ground preparation before ploughing, to maintain plantations and fields, to prevent forest fires or to assist in natural regeneration.
Technical characteristics:
Type: Standard or large diameter roller
6 to 9 straight or angled blade configurations
Available in single or tandem configurations
Heavy or lighter roller type
Triple-sealed oil-bath bearings
Single-block frame without protruding parts
Cutting width: 4.92 Ft/ 1.64 yard -9.84 Ft/ 3.28 yard (1.50 to 3.00 m)
Tractor power : 40 HP to over 200 HP
Weight: 2.54 pounds -22,05 pounds (1.15 to 10 Tons)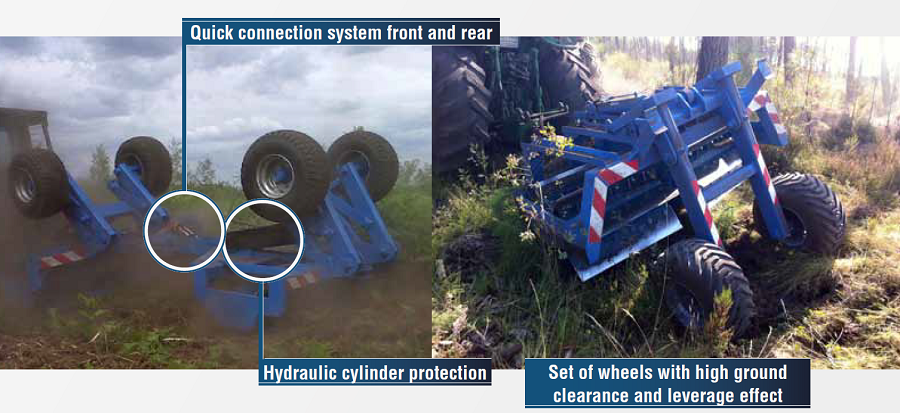 Options:
Three-point linkage
Set of wheels to facilitate its transportation and use
Banded wheels and valve protection
Weighting plates
Different type of attachments
Different blade lenghts ans widths
rouleau-landais-debroussailleur
Data sheet
Width

from 1,50 to 3,00 m (de coupe)

Weight

from 1150 kg to 10 T

Puissance

from 40 to 300 CV
You might also like
Price
A partir de €40,000.00 HT
Price
A partir de €8,900.00 HT